One of the things I love about Baltimore Comic-Con is that, unlike some of the other conventions, it really still is a comic con. No movies or TV shows or sparkling vampires (unless they're featured in a comic book).  At least, that holds true in the main events of the convention. In the artists alley/vendor area anything goes. The majority of those are also comic book related, every once in a while there are some different products there. As I was wandering the convention center I me across the booth for Coral Hare. The manga cover drew me in, I thought perhaps it was a war-themed comic.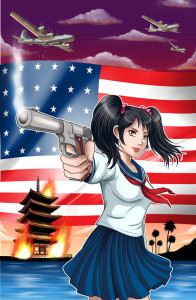 Then I spoke with author Clive Lee and found out it was a historical novel:
I've started reading it and I'm about 20% through it. I have to say that Clive's writing style is pretty evocative. I feel as though he's describing a movie to me – that's how dynamic the action is. I find myself thinking that if someone like Quentin Tarantino got his hands on this book, it'd be a great movie. So far, the characters and story are quite well realized and believable within the bounds of a historical spy thriller genre. As Clive mentions in the interview, the book was reviewed by a history professor and one of the meta things I really enjoy is that the book is chock-full of footnotes explaining a lot of the small details so it's up to the reader whether they want to interrupt the flow and the text doesn't end up going on an exposition dump.
Because it's not comic-related I won't be posting my final review here, but here it is on my personal blog.