As always, I'm covering Baltimore Comic-Con! So here's a roundup of the news so far!
Some of the announced guests include: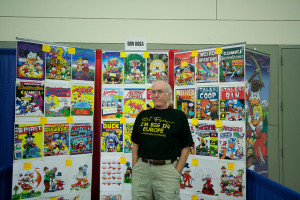 Steve Conley, who you may know from JLA-Z from DC Comics, Star Trek: Year Four from IDW, and Michael Chabon's Amazing Adventures of the Escapist from Dark Horse Comics or his self-published Bloop
Don Rosa: after Carl Barks, probably the most famous people to work on Duck Tales .
Stan Sakai: Creator of Usagi Yojimbo. I think it'd be interesting to speak to him about his famous rabbit.
Thom Zahler: Three years ago I spoke to him about Love and Capes. I ended up buying quite a few volumes from Comixology. Last year I bought his My Little Pony: Friendship is Magic as my daughter's first trade (and signed, at that!)
Denis Kitchen: I don't much about him, but from the press release, he's been incredibly influential:


The Harvey Award-winning Denis Kitchen began his comics career as a self-published underground cartoonist (Mom's Homemade Comics, 1969), but quickly became primarily a publisher. His Kitchen Sink Press for three decades published such legendary and diverse artists as Will Eisner, Harvey Kurtzman, R. Crumb, Mark Schultz, Charles Burns, Al Capp, Scott McCloud, Neil Gaiman, Alan Moore, Eddie Campbell, Dave McKean, Howard Cruse, and countless others. Kitchen also founded the Comic Book Legal Defense Fund and chaired it for eighteen years. A monograph of his cartoons, The Oddly Compelling Art of Denis Kitchen, was recently published. Kitchen curates exhibitions, is an art agent, a literary agent, a comics historian and author (The Art of Harvey Kurtzman and a biography, Al Capp), and has recently brought back Kitchen Sink Books as an imprint of Dark Horse Comics with partner John Lind. This is Denis's 6th appearance at Baltimore Comic-Con where he has a special connection: as the representative of the Kurtzman estate, he was responsible for bringing the annual Harvey Awards to us.

Terry Moore: Of course, he did the famous Strangers in Paradise, but long-time readers of Comic POW! will remember when we covered Rachel Rising. (And again a few weeks later) I'm definitely trade-waiting for that one, but I did enjoy what I read of it.
Budd Root: I'm not familiar with him, but he has a comic called Cavewoman, here's an image that was provided:
Cliff Chiang: Who you'll recognize from his artwork on Human Target, Beware the Creeper, Green Arrow/Black Canary, and Wonder Woman. I especially liked his work on Wonder Woman.
Ramona Fradon: Another creative who has been around for a long time and done a lot, but who I'm unfamiliar with. Her blurb reads:


Beginning her extensive comics career in the 1950s, Parsons School of Design graduate Ramona Fradon is responsible for artwork in many comics, past and present. She spent much of her comics career at DC Comics working on titles like Adventure Comics, Brave and the Bold, Plastic Man, Freedom Fighters, and a very long run on Super Friends. Moving to comic strips, Fradon took over art duties on Brenda Starr from 1980 until her retirement from the title in 1995. In recent years, she continues to be active on titles like DC's Convergence: Plastic Man and the Freedom Fighters, Bongo Entertainment's Spongebob Comics and Annual-Size Super-Giant Swimtacular, and Marvel's Invaders Now!, Namora, and Girl Comics.

Paul Levitz: He's been at DC since the 70s and has done some pretty good work.
Peter Tomasi: I interviewed him in 2012 when I was writing for Entertainment Fuse (called Player Affinity at the time)
The only other bit of news at the moment is that, as usual, they'll have GCC grading at the show.
So far, based on the guest list, it's shaping up to be a great show!