While I was on vacation last week Image Comics announced a boatload of new series coming out soon. Here they are:
The Fade Out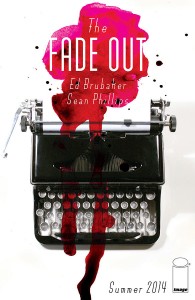 I'm not a huge fan of Ed Brubaker, but I do respect his work on Fatale. It's going to be ending after its 24th issue and Brubaker will be working with Sean Phillips (who he also worked on Fatale with) on The Fade Out. Here's how Brubaker describes it:
The Fade Out is my ultimate noir story. It's a brutal crime story set in late '40s Hollywood, and all spinning around the mysterious death of an up-and-coming starlet. For people who've been waiting for us to return to Criminal, this will be exactly what they're looking for, but on a much more epic scale—going from studio backlots to the debauchery of the rich and famous, and even stretching back to the horrors of World War Two.
I am a fan of noir, but what's really exciting about this announcement is how it's shaking up the industry. Phillips and Brubaker will have full creative control and ownership of their projects at Image for the next five years. Image Comics was founded because of the Big Two having ownership of characters created while working for them. But this is an even further move. I think this new move is motivated by Thrillbent and Panel Syndicate proving that the Internet is finally coming through on its promise of no longer needing a publisher. So if publishers want to stay in business, they need to provide something above and beyond what creators can get doing it on their own. It's an exciting shakeup that could lead to even more creative works in a space that really needs it.
Airboy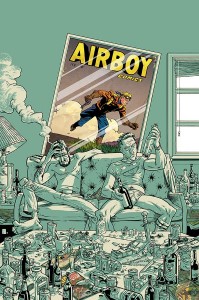 Speaking of creativity, James Robinson and Greg Hinkle have an interesting premise in Airboy. It is the story of Robinson and Hinkle trying to get Image Comics to publish a remake of 1940s comic Airboy. Although not entirely unprecedented in print comics (especially manga), it's a plot more commonly found in web comics. It has a lot of promise, but it also has a lot of potential for being polarizing. These fourth-wall breaking stories are tough to do in a way that doesn't end up feeling like the "nudge nudge wink wink" Monty Python sketch. People seem to like Robinson's work quite a bit although he was a bit controversial on his Comic Vine podcast appearances. Given that this comic is about his "depravity and cowardice", I expect this to be just as controversial.
C.O.W.L.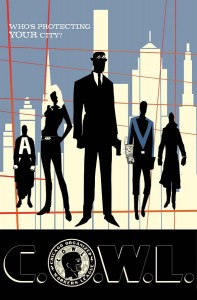 Kyle Higgins, Alec Siegel, and Rod Reis will be releasing C.O.W.L. this May. The book is about a super hero union that works together with the city of Chicago to contract super hero services. Like Jupiter's Legacy it combines elements of Top 10 (suddenly there are super heroes around the time of World War II) and the real world (Chicago union politics in the 1960s). It also appears to contain some elements from The Incredibles/Marvel's Civil War with the official sanctioning of super heroes from within the government. It looks to be an all-encompassing story as Siegel lays out:
While Geoffrey is definitely a major player, both within C.O.W.L and within the story, the book is very much an ensemble piece, allowing us to explore C.O.W.L. from a number of different viewpoints. These characters range from some of the "top tier" heroes, to members of the Investigations and Patrol Divisions. We've also got spouses, reporters, Chicago Police Detectives, jailers, and City Hall.
If you're a history buff and also enjoy super hero comics, this seems right up your wheelhouse.
Casanova IV: Acedia
Matt Fraction, Fabio Moon, Gabriel Ba, and Michael Chabon are bringing back Casanova with Casanova IV: Acedia.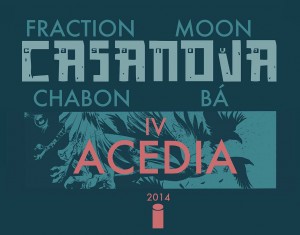 I know nothing about the Casanova series, but CP! writer Dan Mesa mentioned enjoying it while talking about Hawkeye in the 2012 Comics of the Year piece. Here's what Fraction had to say about the new series:
There has literally never been a better jumping-on point for new readers. Our main character has no idea what's happened in the other Casanova books either… If that weren't enough, Pulitzer Prize-winning author Michael Chabon joins series co-creator Gabriel Bá to create a dazzling array of backup stories that explore the worlds—and the people—Casanova left behind.
8House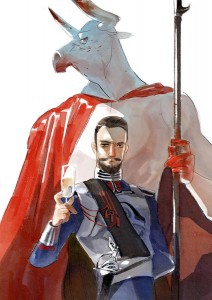 It should be no secret to readers of this site that I love Brandon Graham's work. So I was happy to read he was working on a science fiction miniseries. I was a little less thrilled to find out he wasn't the artist. Still, he does come up with really interesting plots, so I'll be keeping my eye on this mini-series. It's quite weird to describe, so here's what the press release had to say:
The first of the series will be 8HOUSE: KIEM, written by Graham and drawn by Xurxo Penalta and follows a soldier who must project her mind into the body of her dead twin in order to fight monsters on a distant comet.

The second of the series is titled 8HOUSE: ARCLIGHT, written by Graham and featuring art by Marian Churchland (BEAST). ARCLIGHT will bring readers the chilling story of a high-ranking lady of one of the houses who has her mind trapped in a monster's body. She will soon learn that the monster trapped in her body has taken over her old life in her absence.

The last of the series will be 8HOUSE: MIRROR, and will be written by Emma Ríos (PRETTY DEADLY) and drawn by Hwei Lim. 8HOUSE: MIRROR will examine what it means to be "human" and promises to take readers on an ironic space opera battle between self-absorbed humans intent on their own survival and noble monsters striving to save their worlds.
Definitely out of the ordinary and definitely sounds worth checking out. It's also interesting that both of the issues penned by Graham involve out of body experiences.
Bitch Planet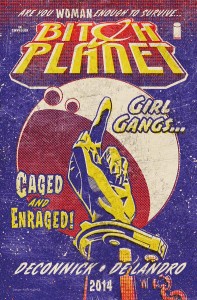 I have to admit that the title turned me off almost immediately upon reading the premise. Not because of some prudish aversion to profanity, but because it seemed to be so exploitative. Turns out, that was the point. "Kelly Sue DeConnick and Valentine De Landro announce a new series set on an all-female penal planet." If you loved the Tarantino and Rodriguez Grindhouse flicks, you'll probably really enjoy the sentiment behind Bitch Planet. Kelly Sue wants to mess around with the tropes surrounding exploitation:
I have a profound and abiding love for exploitation films, but as a feminist, I also find many (if not most) of them deeply problematic—for reasons that are both obvious and that I can't expound on without sounding like an academic paper. These are two WILDLY mixed feelings. And I love mixed feelings. It happens that mixed feelings are the perfect soil composition for fiction.
Although women can end up being party to exploitation that contains a harmful message, I think a woman is in the best place to help make sure the campiness is balanced with respect. I will definitely keep my eye on this series.
Low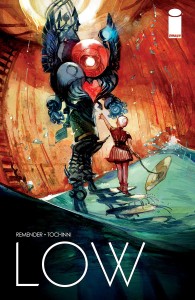 Rick Remender runs hot and cold with me. I loved his run on Uncanny X-Force like I have loved no other run in a Big Two comic. But I have struggled to get into some of his other work. Uncanny Avengers started off well, but just fizzled out for me.
Low, however, seems to figure into one of my favorite genres – post-apocalyptic fiction. Here's the description:
LOW is set in the distant future, after humanity has relocated to radiation-shielded cities below the sea and the surface of the planet has become a scorched uninhabitable wasteland. A probe has returned with information on a possible alternative planet for humans, but it has landed on the Earth's surface. A few brave representatives from the warring human clans venture out to retrieve it and the hopeful news it bears.
Definitely sounds like something that would interest me. I'll have to make sure to check it out.
There are still many more series to write about, but I think that's plenty for one article. Join me tomorrow as we take a look at the second half of Images announced comics for 2014.