Last week was a very heavy comic release week for me.  I enjoyed almost all of them;Batman most of all, as you already know .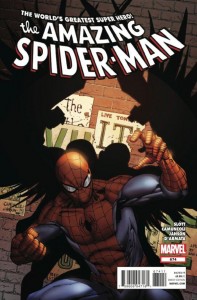 Generation Hope #13 – I continue to enjoy the dynamic between all the members of Generation Hope although I feel that the book is suffering from being a monthly book that is trying to work on both the personal drama and the action and both end up suffering.
X-Men #21 – This book continues to do a much better job post-regenesis of keeping me interested.  The team is still out in Eastern Europe working on figuring out who's buying black market Sentinels
X-Factor #227 – the idea was great, but the fight was so chaotic I kept losing track of what was going on.  Basically they're trying to fight a demonic force that killed a kid's mom and is now killing others
Red Hood and the Outlaws #3 – I really liked learning more about the characters in this book.  This is another book that feels like each month it has to make a hard decision about whether to focus on action or backstory and I like them both.
Amazing Spider-Man #674 – the beginning of a new arc with Vulture as the main villain.  It was just like almost all first arc issues – a lot of setup and not as good as I'm sure it'll get when we're deep into it.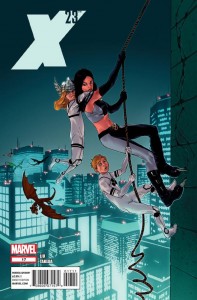 Justice League #3 – I like the idea of the Justice League – especially as a book for someone who wants to get a taste of all the main DC heroes.  Right now things seem a bit rushed.  I wish they'd just make the issues all giant-sized.
Supergirl #3 – Her new intro in this new DC universe continues to be well written.  My only criticism is that her new villain seems to be a clone of Lex Luthor.  (Not literally)
X-23 #17 – I was pretty sure this was going to be a fluff issue and had marked it as the starting point for collecting trades.  However, news that the book is ending with issue #20 made me decide to check it out and I loved it.  Liu does a perfect job with her characterization of the Future Foundation kids and the story turned out better than I thought it would.  Also, the art is FANTASTIC!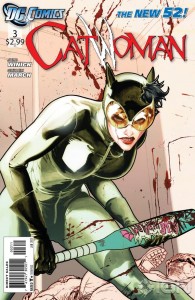 Catwoman #3 – I didn't enjoy it as much as #1 and #2, but it does a good job of continuing the story.  Winick's going to have to let us get a better handle on the direction of the book soon or people are probably going to start dropping it.
Nightwing #3 – He's off with the circus and trying to figure out who is after Dick and who killed the circus owner.  I didn't like it as much as #1 and #2, but I feel we're about to go over the hump in this arc and things are about to get exciting!
Birds of Prey #3 – I did NOT like this book.  No offense to the author, but the villain and his plot seem dumb to me.  I also wasn't really feeling the team dynamic.  I'm dropping the book.  If later arcs get rave reviews I might check it out again.