I'm jumping ahead to the ultimate costume contest winner because I have nearly 1000 photos to go over for the costume contest main post and I didn't want to hold up all the rest of the Baltimore Comic-Con 2016 content. There will be a future post with some video and photos of all the contestants. There will also be a post for non-contest cosplay as the final post for the event.
It's been a couple years since I last saw the costume contest at Baltimore Comic-Con. I love the artistry on display, but it often conflicts with other panels. This year, the timing worked out and I'm so glad I attended and saw Mangoloo's entry. This 23 year-old, plucky bundle of energy took the top prize in the show for the professional category with her cosplay of Tina Tina from Borderlands. For comparison purposes, here's how the character looks in the game: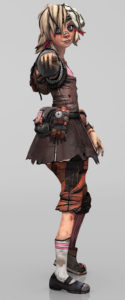 And here's Mangoloo as Tiny Tina on stage: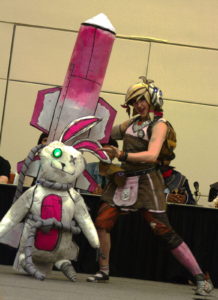 The Vienna, VA costumed wonder has been cosplaying for three years and this is her new and improved version of Tiny Tina. For her extra work, she netted $1000 this year.
If you want even more cosplay from Mangoloo, check out her Tumblr and her Facebook page.