Time once again to see what new comics or trades Image has coming out to take up our spending cash.
First up is Self-Obsessed which is coming out 30 Sept. It's by author Sina Grace and I'm pretty excited about this offering. He's the writer behind Lil' Depressed Boy and Penny Dora (in addition to runs on Burn the Orphanage). After a very tough 2014, he's releasing a biographical comic that sounds like it's going to be pretty heavy:
Influenced by nights spent poring over Joan Didion, Arthur Rimbaud, and Anders Nilsen, the scope of stories in SELF-OBSESSED reflect the ups-and-downs of breaking into comics, reconciling relationships past, and discovering what true selfhood looks like. Mixed with long-forgotten strips unearthed from the creator's messy archives, conversations with contemporaries Ryan O'Connell and Colleen Green, as well as essays exploring gender, identity, and pursuing one's dreams, Grace brings a whole new spin to memoir for the Twitter age.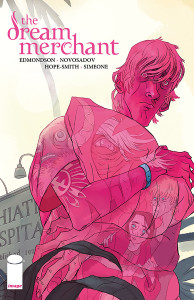 Next up is Dream Merchant. I haven't gotten to this yet, but I'm excited to check it out. It'll be out on trade by the time this is post comes out, but it won't be in book stores until 4 Aug.
THE DREAM MERCHANT follows Winslow, a troubled boy with a recurring dream. When mysterious alien figures show up to literally dissolve the memories out of Winslow's mind, Winslow realizes that his dream may be the most important memory in the world, and one that has been wiped from the collective minds of everyone on Earth.
Just sounds so great!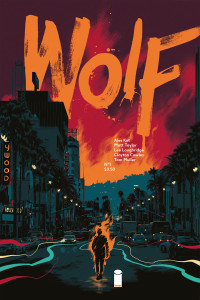 If there's one cliche I always love reading, it's the hard boiled detective cliche. I just can't get enough of it. Also out by the time this comes out, the first issue of Wolf. Writer Ales Cot describes it this way:
"… if I go to where the inspiration really came from…it could be simply the image of Antoine Wolfe, our main protagonist in #1, a hard-boiled ex-army detective who can see too much for his own peace of mind, living in a glorified shack in Echo Park surrounded by boxes of books, empty bottles of booze, prescription pills and some things we can't quite figure out until the end of issue one. It's a cliché, but the biggest clichés are often clichés because they are true: it all starts with a character. And Antoine is real. (…) the Los Angeles we explore is decidedly our Los Angeles, but it has a massive amount of citizens we do not see. And Antoine Wolfe does, which means he's in demand. Of course, there's also something strange crawling through the hills, ripping people up… a girl who just lost her parents… a hyper-wealthy racist named Gibson Sterling… vampires… werewolves… and a whole lot of uneasy, oozing atmosphere. But not all is doom and gloom, because we're in a hyper-sunny LA, the kinda place where it might be Christmas and you won't even notice."
Nice. Sounds like another comic I'm going to have to start pulling.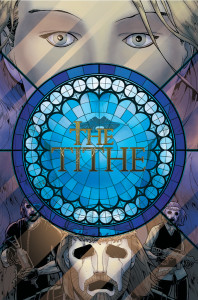 I like to stay on top of Image Comics and, as a member of the press, I am on their PR mailing list. But somehow The Tithe slipped past me. It's a modern-day Robin Hood story about a group who is robbing mega-churches of millions of dollars and giving it to charities. As someone who used to go to one of those and was often left wondering if perhaps less lavish facilities would lead to more money going to those who need it, the story seems pretty compelling.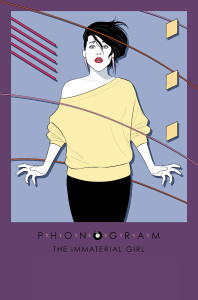 Kieron Gillen did some great work during his X-Men runs. And he's killing it with The Wicked + The Divine. Now he's teaming up with Jamie McKelvie and Matt Wilson to add the third volume of their trilogy.  Here's the pretty trippy description:
PHONOGRAM: THE IMMATERIAL GIRL is the story of Emily Aster, who sold half her personality for the power to rule a coven of phonomancers. It's worked for nearly a decade. Clearly nothing could go wrong now, and the girl behind the screen won't come back for what's been taken from her. In a world where Music is Magic, a song can save or ruin your life. In PHONOGRAM: THE IMMATERIAL GIRL we discover what a video can do. And you will never listen to A-ha's "Take On Me" in the same way ever again.
OK……
And there we go! More ways for Image Comics to get your money!