Dynamite is in an interesting place in the comic book marketplace. While Marvel and DC are constantly striving to update their characters, Dynamite embraces the pulpy past of comics. So they publish titles like Green Hornet, The Shadow, Vampirella, Jungle Girl, and Red Sonja. It was this pulp that contributed to the comics code back in the 50s. And it certainly is an aesthetic that aims to please the male gaze. It's for this reason I never cared to check out Red Sonja before. Look at her, does this look like a heroine that will have stories worth reading or will, like porn, be all visuals with no substance.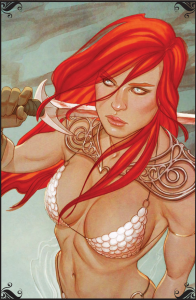 However, with Gail Simone I had a bit more confidence. Removed from the context and baggage of the New 52, I actually enjoyed her run on Batgirl; as part of the New 52, I couldn't stand Batgirl. But based on what I've seen over the past three years, it seems more to be demands placed on the Batman Family by editorial. And Ms Simone is very well respected for her run on Birds of Prey. When I read part of her run on Secret Six, I certainly enjoyed that. Plus there's her work on the Women in Fridges website. So if anyone could write a good story about a scantily clad warrior, it would be Gail Simone.
The Dynamite Humble Bundle finally gave me a no-risk chance to check out her work. I think Gail Simone has done a terrific job with Red Sonja. She strikes the right tone with her script. It reminds me a lot of the anime Slayers. Or of a similar tone to Buffy; without the vampires. With such a pulpy fantasy universe to inhabit, playing it straight just wouldn't have worked quite right. Gail leans hard into all the tropes like Sonja's insatiable need for alcohol, even when he's near death; Or the men who underestimate her just because she's a women and end up dead.
In Red Sonja: Queen of Plagues Gail Simone reboots Sonja's story with the trope of the child who's entire village is slain leading to her desire to kill all and see justice done. Key to this story is also a period in her life in which she is captured and made to fight in a contest similar to Roman gladiators. There she meets a similarly awesome female fighter and she is rescued by a king, making him the only one she has ever respected.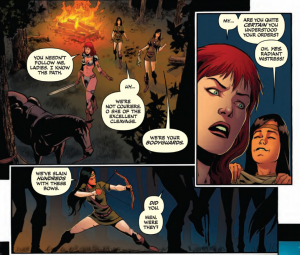 Within this framework Gail explores the relationships and bonds of family – both adopted and natural-born. I think it's no coincidence that Gail Simone has Red Sonja's "bodyguards" be a pair of twins. Ayla and Nias could have been friends or just two random women working for the king, but since the main relationship in this story is the adopted sisterhood of Red Sonja and Dark Annisia, I think the girls are a good example of sisterhood gone right. (And this may be a thread Simone likes to pull, as it was key to the Secret Six story) The women bond under hardship and end up considering each other as sisters. Together they defeat all the men in the gladiator pits and decide they will not kill each other when they are scheduled to face off. Of course, this is the central source of conflict in the story when they find themselves on opposite sides of a war. Gail Simone does a good job on the will-they/won't-they that always accompanies the allies turned rivals tale.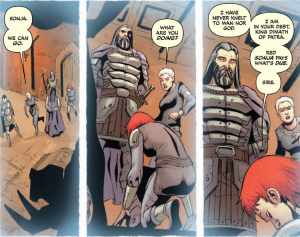 Interestingly, the seeds of this division come from the next relationship: the father-daughter relationship between King Dimath and Red Sonja. Since a previous king was responsible for the gladiator matches, Dark Annisia is disgusted at Red Sonja's pledge of loyalty (which grows into a father-daughter bond). She chooses to ignore the fact that the king's kindness shows that kings are capable of kindness towards non-royalty. Instead she sees him as pulling the wool over her sister.
In the final familial relationship, we have King Dimath and his son, Prince Tiath. Prince Tiath is the typical person born in the wrong time. He would be a brilliant scientist in our time, but by not being a warrior in Red Sonja's time, he ends up in resentful relationship with his father. He also ends up hating Red Sonja as she is more "manly" than he is under these stands. As always, these combine to make the resentful, misunderstood character. Given how prevalent these tropes are, it shows what a good job Simone does with her writing that the Face-Hell turn is not telagraphed. At least, I certainly didn't expect the plot reveal – although there are a couple clues near the end of this story arc.
Gail Simone has done a great job with this story arc and she's proven that she can make any character work for her, even one that seems so clearly drawn to just be eye candy.
Red Sonja: Queen of Plagues: written by Gail Simone. Drawn by Walter Geovani and colored by Adriano Lucas. Lettered by Simon Bowland.