Continuing from a few weeks ago, here are a slew of comics Image Comics will be releasing in 2014.
Nameless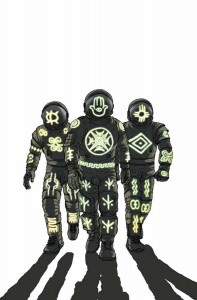 All Image released was the above image and that it will be written by Grant Morrison with art by Chris Burnham. However, I loved their work on Batman Incorporated, so I look forward to this.
Nailbiter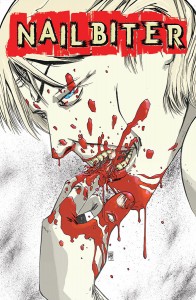 This series is neither my cup of tea nor do I recognize the creators, so I'm going to go with Image's press release:
Since 1969, Buckaroo, Oregon has been the birthplace for sixteen serial killers and FBI criminal profiler Charles Kohl aims to uncover why. But just as Kohl begins to close in on understanding the truth behind why this small town seems to breed some of the vilest human beings America has ever seen, he goes missing. Enter trusted friend and NSA agent Nicholas Finch who must race against the clock to find his friend and piece together the rest of the mystery…before anyone else gets hurt.

Williamson delved deep into research about serial killers, both real and fictional, pulling inspiration from the Zodiac killer, Jeffrey Dahmer, and the characters in films like Se7en, Silence of the Lambs, and Psycho. "We talk a lot of the families of the victims, but what about the families of the killers. That's what Nailbiter is about," explained Williamson. "The people who have to deal with finding out someone they love is a murderer. Like how Twin Peaks shines a spotlight on a small town after Laura Palmer's death, Nailbiter does the same but shows a small town after finding out a bunch of horrible killers are from there."
Restoration
I'm a huge sucker for the old fantasy trope of magic having been a real thing in the past. It's certainly a fun excuse for all the myths and fables of yore. How could someone come up with something as random as a dragon if they'd never seen one?
Bill Willingham and Barry Kitson who have both done great work on Fables have combined this idea with something akin to Judge Doom's idea in the movie version of Who Framed Roger Rabbit?
Millennia ago, a group of some of the more forward-seeing movers and shakers in the world got together and decided to remove magic from the world—our world. They called themselves The Brotherhood of the Cauldron, because, in the first stages of their massive project, they would feed captured magical items and beings into a large magic cauldron, which would render them down into their most basic magic essence, which could then be bottled and stored away, much like we store the unwanted residue of our nuclear programs.

The world settled down into manageable natural laws that were always the same for everyone. Magic was gone. Until one day something terrible went wrong and the gods and monsters broke loose. Suddenly, all at once, magic came rushing back into the world.
Although it's not explicitly stated, it's implied that the magical forces are released in modern times. I think it would be pretty fascinating to see how our lives would be disrupted by magic. In a way, it's just another facet of a few of the series that have recently launched on Image that tackle what would happen if super heroes appeared in the real world. In both instances, there are suddenly those who can bend the laws of physics and have both disruptive aspects as well as a bit of life as usual for most people. I'll definitely be watching this one.
Shutter
Kate Kristopher, once the most famous explorer on Earth—an Earth that's far more fantastical than the one we know, filled with demons, gorgons, phantom ninjas, and various other monsters of lore—is forced to return to the adventurous life she left behind when a family secret threatens to destroy everything she spent her life protecting.

Kate's character can be described as a contemporary Indiana Jones. "We're looking at the 21st Century, where it's at and where it's going, and considering what the Adventurer for its time might be like—what would Indiana Jones be like if created in 2014? What's after Lara Croft?" said Keatinge.  "We're at a much different time than the pulps and serial Indiana Jones and, to an extent, Lara Croft, were rooted in—information from all remote corners of the world comes from great ease, where we're more knowledgeable about other cultures, where technology enables us to access we could only dream about. Where do you go from there?"
The most exciting possibility here is getting a positive female portrayal in this genre. (Although I read a long post somewhere online about how the Tomb Raider reboot goes a long way to fixing the sexist issues with Laura Croft)
The Wicked and The Divine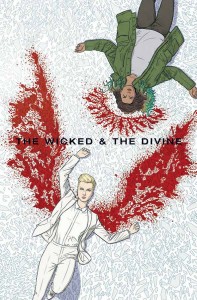 Here's proof that you can start with the same kernel and end up with a wildly different idea. Kieron Gillen (who I loved during his helm of the X-Men franchise) and Jamie McKelvie team up to produce a series in which the ancient gods are reincarnated every 90 years. Sure, it's not exactly the same as Restoration, but it sure mines a similar vein. After all, it would seem to imply that every 90 years there'd be beings who could violate the laws of physics and logic.
Twelve gods will be briefly reincarnated in order to perform miracles like superheroes and bask in celebrity fame. But for the first time, there may be a thirteenth god reincarnated, and lucky number thirteen is tipping the delicate balance.
"The idea of playing superheroes as celebrity isn't exactly new," explained Gillen. "However, it's always played cynical. The celebrity characters are always the debased bad guys, or at least the cautionary tale and wandering from the road of truth. It's always implicitly arguing that these people are worse than the heroes who came before them because they're on the cover of a magazine and they do a bit of coke. We're not interested in that. We're anti-that. We've all had pop-stars save our life."
I think it will be a very interesting comparison and contrast between all three of these series and may be the way we frame the coverage going forward. Stay tuned.
Wytches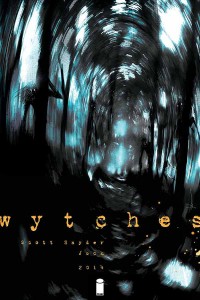 Scott Snyder has done some pretty amazing work on Detective Comics Vol 1, Batman Vol 2, and American Vampire. Jock was Snyder's artist on his Detective Comics The Black Mirror story. To see them come back together for Wytches is to see a perfect match because Jock's artwork on TEC was incredibly scary and Snyder's work on American Vampire shows how dark he can get. This is a horror comic that will probably get me to care about witches the same way that American Vampire actually made me care about vampires.
Southern Bastards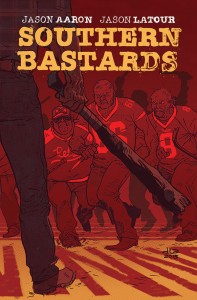 Jason Aaron and Jason Latour are working on a new crime comic that takes place in the south. It's funny, the description sounds stereotypical, but having grown up in the weird mix of Southern and latin attitudes that exist in South Florida, a lot of this rings true.
Earl's a lonely old man with some serious daddy issues. Years ago, his father, Bertrand Tubb, was the tough as nails sheriff of Craw County, Alabama. "But Bert's been dead for years, and now something has changed in Craw County," explained Aaron. "Something you have to squint hard to see, but it's there, something dark and bloody just beneath the surface, something none of the locals want to talk about or even acknowledge. Until Earl comes home and starts asking questions."

Craw County might seem like a simple town on the surface, but within a few issues the mysteries about some of the residents will start to multiply. "We'll meet the new sheriff in due time, the guy who's manning the job that used to belong to Earl's dad," said Aaron. "But the way he sees things is the same as most everybody else around the county: there ain't nothing wrong here, so go the hell back to the city and mind your own damn business. Basically as long as the Craw County High School Runnin' Rebs football team keeps winning games, nobody's overly concerned with any other sort of business Coach Euless Boss might

be up to. So long as the bleachers are full, the folks in Craw County don't rightly care who's buried underneath them."
Join us next time we cover how Image Comics Wants All Your Money!