By now, dear reader, you are familiar with the argument that Disney needs to get its Marvel characters back from Sony Pictures and Fox. They've done a pretty great job weaving together the Marvel cinematic universe around the Avengers. In the comics we have members of the X-Men, Spider-Man, and Thing from the Fantastic Four as members of the Avengers or New Avengers. Imagine how great things could be in the cinematic (and now, thanks to SHIELD, TV world).
But there's another place Disney could and should be leveraging its characters – it should have a Marvel park at Walt Disney World. As someone who grew up in Florida I went to theme parks a lot. In the last few months I revisited both Universal Studios/Islands of Adventure Orlando and Walt Disney World. There is no doubt in my mind that WDW is the king of immersive theme park experiences. Universal Studios is a mismatch of rides just randomly dropped on the property. The Islands of Adventure Side does a better job of grouping rides into themes, but the park is too small to do justice to the expansive universe that is Marvel comics.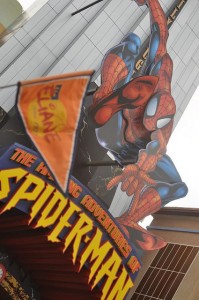 There are a mere four rides: The Amazing Adventures of Spider-Man, Doctor Doom's Fearfall, The Incredible Hulk Coaster, and Storm's Force Accelatron. Three of those (the latter three) do not provide an experience you couldn't get at any theme park (or even, at a smaller scale – at any State Fair). Don't get me wrong, the Hulk coaster is one of my top five favorite coasters. The area's cohesion is helped by the fact that nearly all of Marvel comics takes place in New York City (with all the jokes and tropes that come along with that), but even then it seems to lack that special glue that Disney brings to its parks.
Even if Islands of Adventure could get everything right, they still have a space issue. There are only four rides there because that's about all that could fit. A Disney theme park could have an Iron Man based ride – which could potentially be a pretty amazing roller coaster on the same level as space mountain. Additionally, a Disney Park could also focus on recreating Marvel's New York. Each section could be devoted to a group of heroes. One could have the X-Men and another could include Daredevil, Black Panther, and others. There would also be a real opportunity for great live shows.
Why care about theme parks? Why argue for any of this? Because comic fans, like true fans of any form of fiction want to do more than just read or watch their heroes and villains. We want to experience it. It's why we're driven to endless debates as if these were real people. It's why we write fan fiction ranging from horrible to amazing – we want to be there and live in this world (with the safety of being able to leave without harm). I think we deserve the magic that helps balance the more annoying aspects of being owned by a huge corporation.
Header Image: By legoyodax. Used under a CC Attribution-No Commercial – Share Alike license