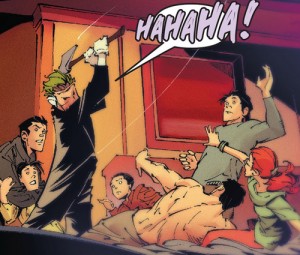 When my wife and I were thinking about daycare for our daughter we visited a lot of centers and got their welcome packets. One of them mentioned that kids were not allowed to have back packs, lunch boxes, or t-shirts with characters from shows in which characters primarily used violence to solve their problems. Examples given included Power Rangers, Batman, and other super heroes. It's funny – I'd read comics off and on since I was in elementary school and I'd spent a lot of time watching super hero cartoons and movies. But I never consciously realized that the characters primarily used violence to solve their problems. It's pretty noble that any heroes who aren't anti-heroes never kill in the course of their actions, but they're still pretty violent. What message does this send?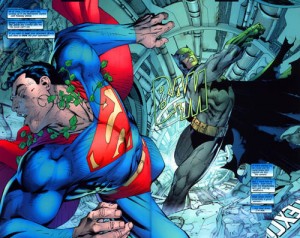 Before I go any further, I'll gladly concede that these are comic book characters- drawings. Additionally, comic books are fantasies – they contain marvelous super heroes and deeply dangerous villains, both often imbued with fantastical powers. However, it's no surprise to anyone who does critical media reading that comics books, like all media, are a reflection of society. As works of fiction they can function in the same way that science fiction does – mirroring our world to us and allowing us to deal with discrimination against mutants instead of African Americans or LGBT members or deal with ideas like vigilantism or corporate greed. It's a safe space to explore new ideas in which the author can take you in any direction and a good writer shows that real life is grey – sometimes in winning, the heroes are actually losing or giving up a great deal. Much ink and many electrons have been expended on the idea that Super Hero comics, in particular, are our modern day mythologies and there are many comparisons to be made between the Greek and Roman stories and our Super Hero comics. Finally they are there to entertain us and violence can be quite entertaining as evidenced by all the violence in story telling from the ancient times until now.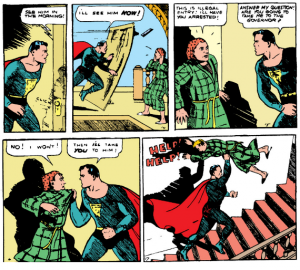 So what do these stories tell us? In a sense, they tell us that violence is the last resort – the only way to get things done when others won't listen to reason. If confronted with villains you only have one resource – to punch them out. And, if you think about it, that's pretty self-evident in Superman's initial power set. He's essentially the oldest surviving Super Hero from the earliest days of comics. What is his power set? It's focused on strength. He can run fast, he can jump high, he is nearly invulnerable to physical attacks, and he can break any doors in his way. Who knows what other powers he may have had in the nearly infinite reboots since then, but initially he didn't have any super-thinking powers. The ads in Action Comics were about helping 90 pound weaklings get stronger to be able to acquire and keep their girlfriends. Moving up 30+ years and to Marvel, what is Wolverine if not the embodiment of the perfect super power set for violence? He has unbreakable knives in his hands and, given enough time, he can heal from any physical attacks. Again, he's a common man – any wisdom he has come from having lived for 100+ years.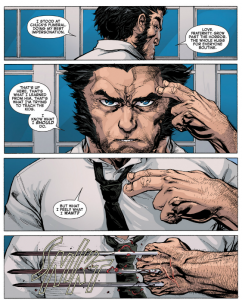 So what would be the alternative? Well, on the one hand – given Charles Xavier's (Professor X) considerable powers, he could have simply entered the minds of nearly every villain and just made them stop. Of course, that would have made for a potentially boring comic book which is why they have Magneto, their principle enemy, wear the anti-Professor X helmet. What would a comic look like if it didn't have any violence? I have no idea! I've never read one. Even the lifestyle manga I've been featuring here on Comic POW!, Love Hina, posits violence as the response for Keitaro's sexual infractions, even when they're unintentional. Fables, a comic about Fairy Tale characters in the real world? Well, take a look:
For a while I was thinking of mentioning Deathnote. Even if you're not into manga, I'd recommend it because the story is primarily a series of mind games as the main character and a detective, who are both genius-level intellects, spar mentally. Surely, here's an example of a comic without violence – the entire series is a series of one-up attempts at obfuscating their true motives in order to keep from getting caught or killed. The main characters don't ever hit each other (or maybe only do it once over the course of a very long story). But then I remembered what the story was about! The main character finds the Deathnote, a notebook used by spiritual demons called Shinigami and by writing someone's name on there they control who dies and how. The main character decides to use this power for good (ultimately) by killing all the criminals and scaring people into behaving correctly. There's the violence and the theory of the book – without the threat of ultimate violence (the death penalty), humanity will not behave itself. In essence he's counting on the same idea as Batman – fear – but he's willing to kill.
In the real world we don't have super villains but psychopaths can come pretty close. Still, we frown upon violence inflicted on them during the capture phase and only a few states would kill them for their crimes. So is there room for non-violent comics? And would they still entertain us? Are we just not thinking outside the box? Or is violence the only way?