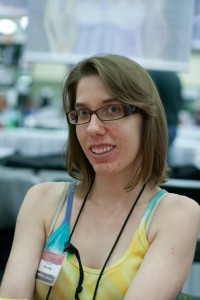 One of my favorite things about Baltimore Comic-Con is that, unlike some of the larger cons, it's still all about comics. And Baltimore Comic-Con is organized so that the indie creators and established creators are in the same spaces. This allows attendees to learn about neat, up-and-coming creators.
During the first day at Baltimore Comic-Con 2014 I spoke with one such indie creator, Mindy Indy. She's working on an absolutely stunning comic called Aer Head. The visuals remind me of the types of pages in the original Sandman comic Vertigo put out. It is truly a joy to read comics where every page is a work of art you'd be happy putting up on your wall.
Listen to my interview with Mindy Indy:
Sounds like a lot of fun. I've tried to create comics myself (dozens of times) so I can completely relate to how long it's taking her to work on the comic. I can't wait to read it, so I hope she can get that final push to get it out there.