Sex
I just got word that Sex #1 has sold out.  I'd like to think that is in no small part thanks to the advanced review I wrote.  But if you want some other opinions, check out the IGN review or the iFanboy review.  Interestingly, they both drew analogies toWatchmen that I didn't pick up on.  Although, now that they mention it, it's pretty obvious.
If you can't wait for Sex….the reprint….you can nab it on comixology.  But if you prefer a physical copy, you can get it on 3 April.  Which will be just in time forSex #2 which arrives one week later on 10 April.
If you'd still on the fence – hop off and come check this book out.  It's worth a look!
Skullkickers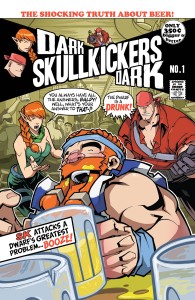 When I saw the press release from Image, I took a look at the subject line "Skullkickers gets DARK in June".  I'd never read this series, but I wondered – how much darker can a series calledSkullkickers get?  I mean, they're already kicking skulls!  So I clicked and saw that Image is just bowing to the industry pressure that there are two things that sell comics: #1 issues and Dark issues where Dark things happen.  Or, as their PR director, Jennifer de Guzman, put it: "This may be the worst thing we've ever done. It's a pale reflection of the industry's need to spin rebooted series through endless hype, turning the crazed hamster wheel of entertainment promotion until it's fallen apart. Good-bye, integrity."
Also, from the comic creator Jim Zub, "Fun comic books are a thing of days past.  In order to grab a modern audience I've dipped into the darkness of my own heart and spilled my blood upon the pages of this sequential masterpiece. Oh yeah, there's beer in it too."
Ironically, joking though they may be, my interest is piqued.  I think I'll be checking out thisSkullkickers to see what it's about and why it "needs a dark reboot".
Baltimore Comic-Con 2013

Breaking news: Jimmy Palmiotti and Amanda Conner will be at Baltimore Comic-Con 2013.  I love Palmiotti's work on All Star Western – As I've remarked before I never thought someone could get me to enjoy a comic book about cowboys.  Amanda Conner has worked as the artist on a bunch of comics, especially the highly acclaimed Before Watchmen: Silk Spectre.  This year Baltimore Comic-Con is happening 7-8 September.  I attended for the first time last year and I think there are two great things about Baltimore Comic-Con:
1) the convention isn't as crowded as New York and California Comic-Cons so you can usually get a good amount of face-time with your favorite creators compared to those shows
2) the convention is very focused on comics – it hasn't been subsumed by pop culture like some of the other conventions.
So if you're nearby – make sure to try and attend!