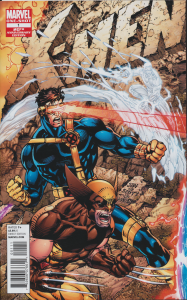 When I saw the 20th Anniversary edition of X-Men Vol 2 #1 for sale, I decided it would be neat to check it out to see how much has changed in the past twenty years. I figured that while a lot has changed (via M-Day, for example) there's also a lot that probably remains the same.
I started off with the cosmetic differences. On the outside Cover we have the team in their classic costumes – the ones I first saw them wearing in the 1994 cartoon. Magneto is a villain. While I didn't know this, the current storyline isn't the first time Magneto's been allied with the X-Men. The story reveals that, apparently, he worked with them prior to X-Men Volume 2. So it's interesting that he seems to vacillate. I know part of it is just comic book plot and part of it is the effect of different writers over the years, but I wonder if there's an overarching theme of whether being evil is central to his character. In fact, on 9 Nov there'll be a new Magneto mini-series which is being pitched as a return to violence.
Archangel has metal wings. This is another trait that has gone back and forth through time. Now he's the new Apocalypse in the current X-Force stories. Jean is alive. I'm curious how many times she's actually resurrected because at times it's been a clone of her or some other impersonating entity that's actually bitten the bullet. Beast is not catlike. That's a change that came about in or around the time of Grant Morrison's New X-Men. More on him later. Professor X is involved and in wheelchair although the story reveals that the current story isn't the first time he's been away from leading the X-Men. From the inside front cover we see that Strong Guy is part of X-Men, Cable's alive, and Polaris and Havok are there. From the inside back cover we see Rahne here instead of X-Factor and that Nightcrawler alive and well.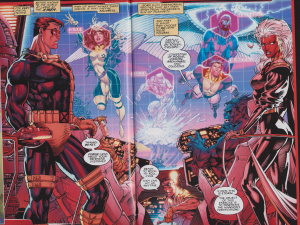 Going into the actual book, it's an interesting first issue. Yeah, a good chunk of the story is a reintroduction to the X-Men and it's debatable whether that was actually necessary. X-Men Volume 1 had become Uncanny X-Men so it's not as though people didn't know who the X-Men were. But as I mention in my comic vine review, #1s are a chance to pick up new readers so it can't be faulted. Both the new Uncanny X-Men Vol 2 #1 (2 Nov) and this #1 showcase the X-Men's powers via battle. In X-Men it also serves as a re-introduction to the Danger Room. Of course, the Danger Room took on a whole new meaning with Whedon's run on Astonishing X-Men where it was revealed to have gained sentience. Despite that, both Uncanny X-Men and Wolverine and the X-Men have Danger Room setups at their locations.
For the most part, there wasn't any glaring 1990s tech (although I'm sure I'd spot some on a second or third read-through) and the only thing that messes with Marvel Comic Book Time saying this took place 4 years prior to the present is the presence of the Soviet Union.
Magneto is on Asteroid M, his space-based Sovereign Nation. This is interesting to a current reader in a few ways. First of all, I think I remember it being the scene of Jean's death in New X-Men. But whether or not that's true, it's currently the site of Utopia. So not only is it still (20 real life years later) a Sovereign Nation that's not recognized by the world's nations, but Magneto still lives there! Of course he's not the leader now, but he's not doing too shabby.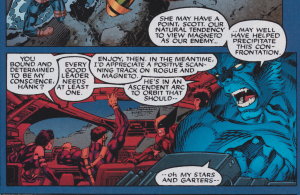 Two other interesting bits from this issue as someone reading 20 years later. First of all, Beast acts as Cyclop's conscious. Of course, this led Beast to leave the X-Men some time after he discovered that Cyclops had formed (reformed?) X-Force. Also, back in the 90s a lot was made of the tension between Wolverine and Cyclops. They'd never get along! They both wanted the same woman and Cyclops was a teacher's pet while Wolverine was the cool kid. Surprisingly, they actually ended up getting along so well that when Jean has thoughts of cheating on Scott with Logan, Wolverine declines. Yet Schism just happened and they've finally torn the X-Men apart. (For now)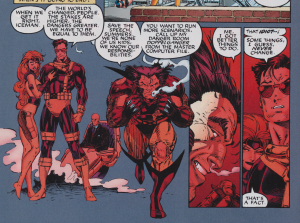 No where else to put this, but Nick Fury makes an appearance as a Colonel.  Also, Emma is shown in the rogue's gallery at the end as an enemy.
The basic story involves some dudes who idolize Magneto and want him back on top. They're also racist (specist) against humans and want to spur Magneto to get rid of them. They somehow convince him that it'd be a good idea to have some nukes so that the humans won't mess with Asteroid M. The book centers around whether Magneto really can be trusted. The only sad thing about this is how often it's been hammered home. You'd think people would get tired of it. But I guess that since people (on average) have tended to age out of reading comics, the story's always fresh to someone.
The writing holds up for the most part although the dialog is definitely dated. This is a time when people spoke like comic book characters rather than real people. See this example with Rogue.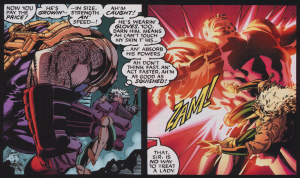 This issue is also the beginning of the Blue and Gold Teams that would continue for a long time within the X-Men story lines and allow the writers to have different books to focus on different X-Men and allow most characters in the large ensemble cast to get a chance in the spotlight.
Overall, it's a good issue that isn't too dated.  I was still able to enjoy it 20 years later and only the dialog really gave it away.  It's a neat artifact to see what has changed and what remains the same twenty years later.