(The following contains lots of spoilers! So you may want to read Fantastic Four #600 first if you haven't yet)
Predicting the fallout from any given issue is a difficult thing to do within this storytelling medium. Authors are fond of misdirection. Small, seemingly unimportant events within any issue may later become extremely important via a planned storyline by the same writer or by a future writer who, like Grant Morrison, takes something that was never meant to have meaning and grants it utmost importance. Given that, let's take a look at the possible important changes to the Marvel Universe post-F4-600. We'll start with the obvious one – Johnny Storm's return.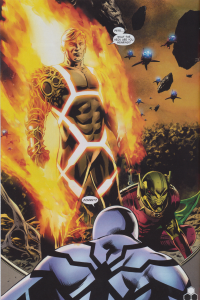 Dan and I debated whether or not this would happen with #600. 1 was of the opinion that all the marketing materials put out by Marvel seemed to point to The Human Torch's return. And while it might, in the long run, cheapen some of Ben Grim's grief, I always opined that he wouldn't be one of those corny comic book deaths because we never saw him die. Dan, ever on the offense when it comes to comic, book cliches maintained that Hickman would not fall prey to the temptation to bring Johnny back so soon. It's funny that in a way I was both right and wrong. I was right about the return of The Human Torch, but I was wrong about how Hickman managed it. Johnny Storm did indeed die to save The World. It's just that in the Negative Zone they have these bugs that bring you back to life. So what effect does this ultimately have on the Marvel Universe?
Well, in the simplest sense, the Fantastic Four, always a family-based team (with the odd exception here and there), can once again exist in the original form. This may or may not have implications for the Future Foundation. The Fantastic Four could exist as a subgroup within the Future Foundation since Hickman make the Future Foundation much more than just the remaining F4 and Spider-Man. There are the kids and moloids and the dragon and so on and so forth. So the only reason for the Future Foundation to cease its existence is if our, real world no longer had a need for that book. But those are the easy implications. This story was mostly focused on how he was made to fight to the death in a gladiator arena and brought back to life over and over. It's possible this had a maddening or other such effect on him. Or he may have matured to such a point that he's essentially a different character or no longer wants to be in the Fantastic Four. (Both very unlikely in the world of comics – or would likely be reverted after Hickman's run ends) Also, unless I read something incorrectly, he now controls the armies of the Negative Zone. That could certainly turn the tide in the current alien invasion. Who knows what future consequences it would have. So, even this seemingly easy to predict change could have some surprising consequences.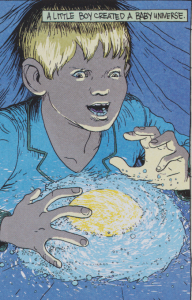 Next up is what we learn about Franklin Richards. I'm sure that in the real world Franklin Richards' powers are the mistake of a short-sighted writer. He is the most powerful mutant, considered to be on par with the Celestials. He can freakin' change reality! In the Onslaught Crossover that's why Onslaught chose to kidnap him. And, in the aftermath of Onslaught, he creates the Heroes Reborn universe. He's so powerful that when the Marvel U was restored, his father found ways to dampen his powers. After all, what fun is a comic book if Franklin can just erase bad guys and their actions/consequences? Near the beginning of Hickman's run, he had future Franklin go back in time to reignite current Franklin's powers. Fantastic Four #600 reveals that Franklin has been practicing with someone (maybe future Franklin) to hone his powers. This is because they know he needs to have these powers in the same way that Valeria needs to ally them with Doom. So what are the consequences going to be? I think, ultimately, he has to lose his powers again for the narrative reasons I stated above. And we end up establishing a pattern of having his powers whenever they're needed for the story and then discarding them. I have confidence that Hickman would use this in a good (and perhaps even surprising) way, but it could end up becoming an annoying dens ex machina for future writers. I'd prefer for them to just alter his powers permanently so we don't have to worry about this stuff again for a while. (There's always a way out in comics, I know) I'm left wondering what purpose Hickman has for bringing his powers back and what'll happen going forward. Perhaps Marvel has some crazy crossover coming up for which these powers are needed.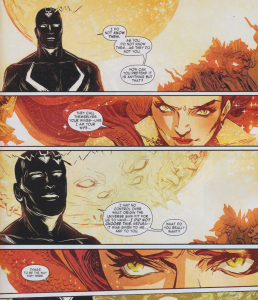 The final new event in Fantastic Four #600 that I think may have far-reaching consequences is the fact that Black Bolt's wife appears to be jealous of his other wives. I don't know much about Black Bolt other than the fact that he was just brought back from apparently death during Hickman's run. So it would seem unlikely that he'd be killed again so soon. I know he's considered to be a pretty important character because in Road to Civil War he was among the Illuminati. However, her potential betrayal could turn the tide in any of the numerous battles currently going on in Fantastic Four and FF. Given the power the Universal Inhumans wield and the fact that they're the reason Earth might end up destroyed (maybe Franklin un-destroys the world?) could make her an important player going forward.
Only time will tell how Hickman or future writers choose to use these new events.