Reading Sex Criminals Vol 1, one almost feels like Fraction and Zdarsky never expected to be able to get away with this comic. It's almost even neatly wrapped up by the end in the sense of one of those stories that leaves more questions unanswered than answered. In fact, Suzie makes fun of this in the first page of Volume 2.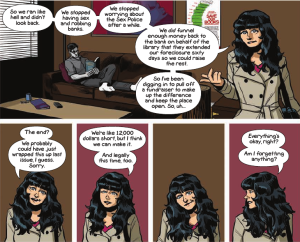 Viewed from another perspective, the story that is the basis of Sex Criminals is so insane (even though, as I noted last time, contains a great many wonderful metaphors), that Fraction and Zdarsky were forced to cram lots of story in those first five issues in order to keep readers from giving up on the bizarre concept. In contrast, this volume seems to be the creative team stopping to catch its breath; It's not a bad thing. The story begins with Jon and Suzzie deciding they are done with robbing banks and will try and save the library in a normal way. Then it's time for personal growth for Jon and Suzie as well as the return of Rachel and the introduction of Robert Rainbow.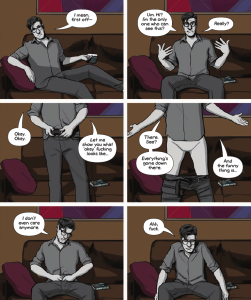 With Jon, Fraction is tackling a few different issues, but most importantly in this volume – how we deal with mental issues in America. In the last volume we learned that Jon had stopped taking his medication and he acted more impulsively when not on his meds, hence his pushing Suzie into the bank robbing. At the time it was unsure if Fraction was going to play this straight or if it was meant to simply be like Me, Myself,and Irene – used for hilarity. Fraction goes deep and Zdarsky helps out with a greyed out Jon as he feels like the volume on the world is turned off when he's on his meds. He loses his sex drive which plays a part (though is not the only reason) in his drifting from Suzie as their orgasm powers were what drew them together. He tries going back to his therapist, but the therapist is only interested in making an easy buck and isn't paying any attention to Jon. While this matches our cliched image in media of psychology being a sham, Fraction quickly disabuses us of that notion through the new therapist he meets in the food court. This new therapist finds some issues where the medicines may simply be masking the symptoms and gives Jon some homework. While couched in quite a few jokes and puns (visually and spoken), Fraction is really conveying some important information here. In effect, it's not that medicine is bad or therapists are bad (and the opposite is the true cure). What's bad is jumping right away to medicine rather than seeing what can be dealt with in therapy and then using medicine either as a temporary help while dealing with issues, or dealing with true chemical imbalances. Having seen the effects of various medicines on people with mental issues, the effects can be quite dramatic and perhaps some therapy could help limit those effects.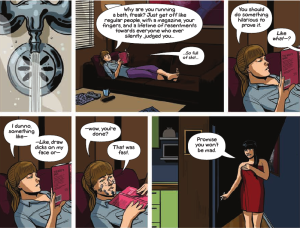 Suzie has a few things going on. First off, she realizes that, like many of us have done, she has neglected her friend for her new partner. Especially as she and Jon drift apart, she realizes the folly in abandoning a long relationship for a new and exciting one. In an attempt to win back her friend's trust, she reveals the secret of The Quiet to Rachel. So far this doesn't have any adverse effects – as it might when a super hero reveals his or her identity. However, given that the Sex Police want to keep things a secret, it can't help but be one more mark against her. Then, when she goes on a break with Jon she hits on her substitute Gynecologist, Robert Rainbow. I know there is at least one person out that that proves or disproves any definitive statement, but I can't imagine this happens often. Not only is the woman in a vulnerable place, but she may be visiting for medical reasons that would be embarrassing for a potential partner to know.Finally, because the Sex Police have a vendetta against her and Jon, they purposely buy the library to demolish it, making it indirectly her fault that the library is destroyed.

Even the backstory on Ms Jazmin St. Cocaine manages to be more than just an excuse for pornographic scenes. In a bit of interesting timing, I happened to watch Rashida Jones' documentary Hot Girls Wanted. It is a documentary about how amateurs get into pornography and the effects it has on their lives during and after their stint. For a time a few years ago I was also reading a prominent blog that purports to be written by a sex worker. Fraction's story seems to be consistent with the stories out there rather than simple cliches. Many of the so-called cliches in this volume are apparently cliche for a reason. The biggest one by far is the fact that for many women, sex work brings in more money than they can get any other way and it can be empowering. (Which is not to take away from anyone who's in there for victim reasons) Fraction also has the porn actress also deal with an inability to orgasm except in rare circumstances. From what I've read, this is on the end of a spectrum that many women find themselves on. Just like the best advice one hears nowadays on a million websites and podcasts, she experiments to try and replicate the situation, but finds herself unable to find a consistent method for orgasm. She also makes a great contrast to Jon and Suzie with her powers. Jon uses it to play pranks and act out. Suzie uses it as an escape from a harsh world. St Cocaine decides she's going to study time and why such a thing would happen to her – leading to her PhD and professorial work.

There are other interesting things Fraction touches on. For example, when Robert Rainbow walks in on his parents during a kink sex session, Robert actually expresses to his father that he should not be ashamed as long as it keeps the passion in the marriage and keeps his parents together. Too often kink is demonized without realizing that within defined boundaries it can be a safe space to maintain sexual wonder and prevent partners from wandering. There's also the orgasm detector the Sex Police have. Early on in the story it symbolizes a loss of spontaneity and a vulnerability and helps to push Jon and Suzie apart. This is symbolized by them not entering The Quiet together because they aren't in tune anymore.
A bit of trivia: am I misreading things or did Suzie's dad AND Jon's dad work at the same bank? Also, is that the same bank at which Jon is now working?
Finally, we start to find out a bit more about the Sex Police in this volume and it appears Kegelface was not entirely honest with them about the whole Sex Police thing. It looks like she's just collecting files on everyone and  trying to be controlling or something. When Jon and Suzie get St Cocaine to orgasm together with them, it sets them off, so our main characters are in for a world of hurt.
Sex Criminals Vol 2 written by Matt Fraction with art by Chip Zdarsky. (Get it on Amazon and support Comic POW! : Sex Criminals, Vol. 2: Two Worlds, One Cop
)