It's been a while since the last one, so I figured this week I'd do another comics time capsule. This time, I'm going to look back to the mid-80s with volume 2 of The New Teen Titans – specifically, the Brother Blood story told primarily between issues #26-31 (December 1986 – May 1987).
This is a great story in a comics run that was, all told, superb. I don't love every last thing about the run – I've never been a Danny Chase fan, and the sexist way that Changeling speaks sometimes grosses me out – but for the most part, the stories and characters are all wonderfully crafted and explored brilliantly. This story holds a special place in my heart because it's the only big post-Crisis story that features Jason Todd as Robin, and though I don't like to play favorites when it comes to Bat kids, I sometimes can't help it. (This is definitely one of those times.)
The setup for the Brother Blood story begins much, much earlier than issue #26, but the main thrust of the story starts there. The story starts out by giving us a recap of what's happened to date; the point of interest is that both Raven and Nightwing have been captured by the Church of Blood, and they've been brainwashed to boot. The Church of Blood is now trying to take over the world, though of course they're not telling people that's the goal.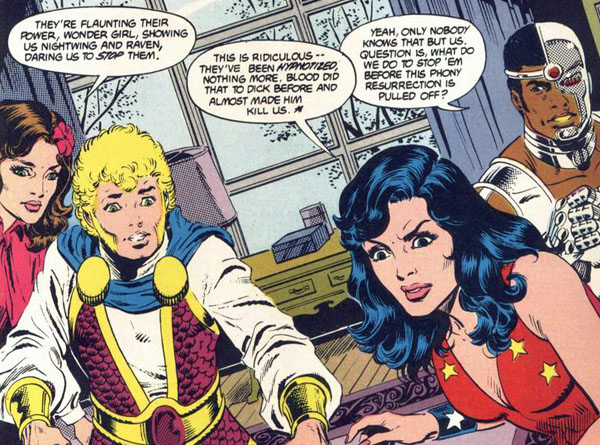 The Teen Titans have fought Brother Blood before, and at the end of the battle, they were blamed for his death – except Brother Blood didn't die. Because of that, having Nightwing and Raven on hand for Brother Blood's supposed resurrection – and brainwashing them to support what Brother Blood is saying – is a huge thing. Brother Blood literally gets his power from people believing in him, so having two prominent Titans saying that they were wrong the last time they fought him, that the Church of Blood is the only thing that will save the world… well, you can imagine how much power he gets from that sort of attention.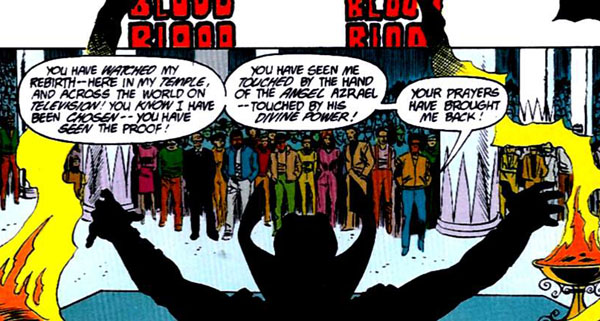 The Titans head off to rescue Raven and Nightwing. They're sidetracked by Twister, a woman who was kidnapped by the Church as a child and turned into a metahuman with facial deformities, but they do eventually make it. They find that in addition to Raven and Nightwing, the Church is also holding Arella, Raven's mother, hostage. The Titans are crushed in the initial fight, but after Brother Blood double-crosses Mother Mayhem, the one who orchestrated his return and the mother of his as-yet-unborn child, she turns the tables and disables the machine that gives Brother Blood his power. In the subsequent fight, the Titans wipe the floor with Brother Blood, and the world is once again saved.
So, what do these issues tell us about the time period in which they were created?
Like I was with Robin: A Hero Reborn, I'm once again surprised by the level of technology that we see in this story. Computers have been around for a long time, and even though the ones we see in The New Teen Titans clearly do things that computers can't actually do, they're pretty indicative of computers at the time. There aren't any fancy operating systems, the displays are clunky and colored in ways that would hurt to look at for too long, and the input seems to be done almost entirely through the keyboard. It's very late-80s computing, and it's wonderful to see here.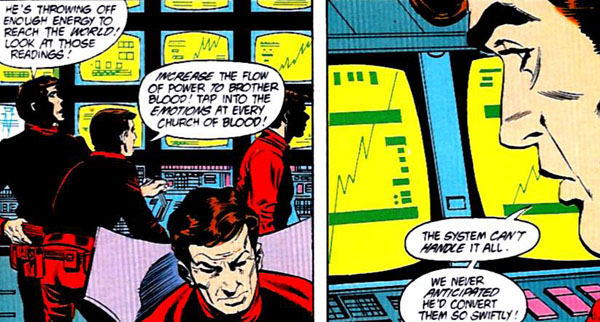 We have another glimpse at technology in a few of the issues; since the attempted Church of Blood takeover is worldwide, it's being widely covered by the media. We get a glimpse of the recording equipment of the time when we check in with our reporter friend, Bethany Snow.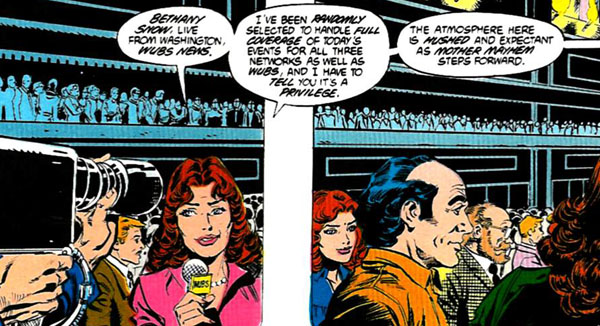 The thing that struck me here is how little television cameras have changed, at least on the outside. We might have better cameras now, but they look almost identical to the one pictured in the story. I guess it's solid evidence for the "it's what's inside that counts" theory.
The hair and fashion in these issues are enough to make me laugh at times. We have Twister's spiky hair, midriff-baring top, and boots that defy explanation: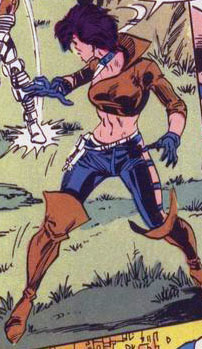 This random person on the street is sporting a sweet hair accessory along with a popped collar: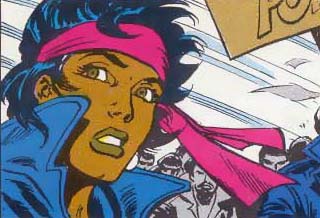 Then we have Jericho's hair. I love the character to bits and pieces, but really, nothing says "dated hairstyle" quite like this.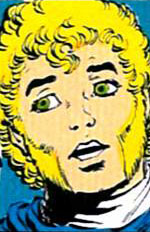 It's also a lot of fun to look at the heroes that we have in this issue. The Teen Titans have a roster that changes all the time, though there are a few core members. They change names and outfits, though, so it can be easy to figure out when an issue was published just by paging through and seeing what everyone was wearing, and what everyone else is calling them. For instance, the team leader at this point is Donna Troy. She's still going by "Wonder Girl," but by now she's ditched her original outfit in favor of the red bodysuit.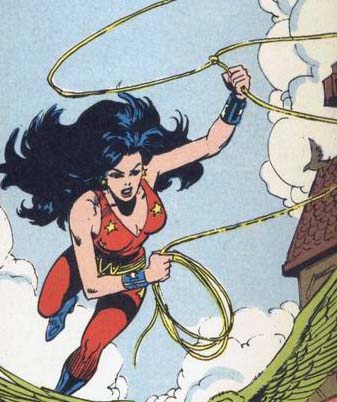 Our Robin for this story is Jason Todd. (It can sometimes be hard to tell Jason from Dick while they're in the suit; part of me is convinced that the reason the next Robin gets pants is so we can tell which one he is without having to try.)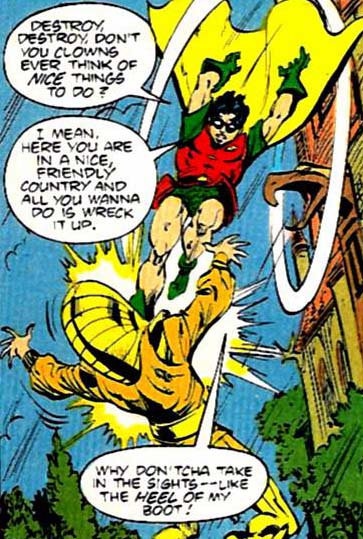 Dick Grayson is now Nightwing. He's in the ever-popular Disco-flavored Nightwing suit, complete with plunging neckline and popped collar wide enough to hide his entire head in.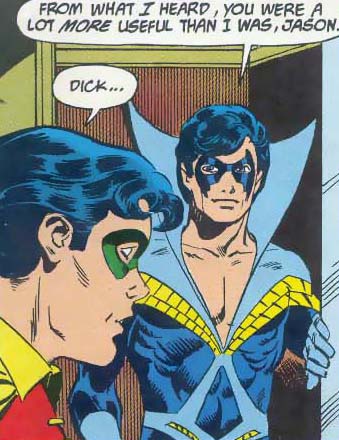 Raven is wearing the white swimsuit-and-cape getup instead of the deep purple she'd worn before now.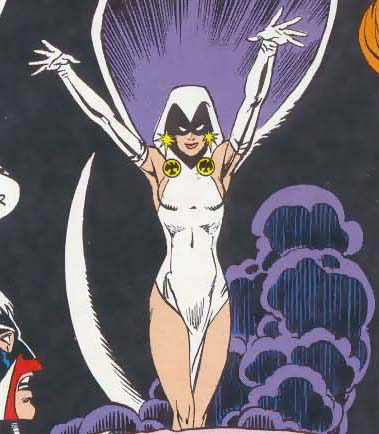 Gar Logan is Changeling, not Beast Boy, and his costume is fantastic.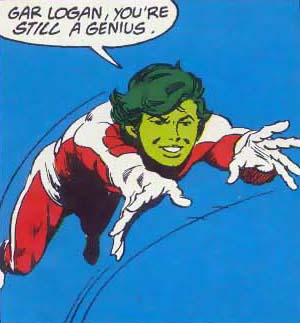 We have a few other Titans pop in and out of the story, too. We get a few glimpses of Magenta helping out, and Robotman shows up for the fight with Brother Blood. Wally West, newly christened as the Flash, tags along in the story as well. There's even a cameo from Batman and Superman along with a few other JLA members. It's part of the charm of the Titans, and it's great to see so many faces included in the story – and great to see that they all play a part, instead of just appearing for the sake of appearing.
It was a lot of fun to look back at this story and to see the bits and pieces that have survived – and those that stuck out. The New Teen Titans is, like I said, a favorite of mine, so having the chance to read it and talk about it was great fun for me. Here's hoping that you enjoyed it, too!
Comments? Questions? Leave a reply! I'll be happy to talk comics with you.