I'll be honest: I went into Damian: Son of Batman with more than a little trepidation.
There are a few reasons for this. The first – and most obvious – is that Damian is no longer with us, and since he was killed off in Batman Incorporated earlier this year, my affection for the character has only grown. It's not that I've come to distrust DC's handling of characters that aren't the Trinity, but… okay, no, that's exactly it. I went into the book wary of what DC was going to try to pull.
The second reason is that the book is both written and drawn by Andy Kubert. Doing double-duty as writer and penciller means that the book is entirely Kubert's vision, but the sword is double-edged; he has to handle a lot with this book, and I worried going in that it would be too much to tackle. Even knowing Kubert's history with the character – he was the artist working with Grant Morrison when Damian was created – I worried that something would fall through the cracks.
The third reason that I was nervous is that this story doesn't happen in canon. It's essentially an Elseworld, a DC-sponsored alternate universe that takes place in a world in which Damian didn't die. That means that the rules are a lot more lax, and Kubert would be allowed a lot more leeway with what he could and couldn't do in the story. Add to that the fact that Kubert revealed over the summer that he's been planning this series for years – and thus, that it's not something that grew organically out of the character's story as we now know it – and I was understandably apprehensive about the book.
As it turns out, my fears were justified.
The miniseries is telling the story of how Damian becomes Batman. (We already know that it's not a happy tale; this series is the lead-up to Daman's Batman as shown in Batman #666, which was a really dark and grim future.) This story starts out with an older Damian as Robin and Bruce as Batman at a crime scene; a bomb goes off during the investigation, and Bruce is killed. After the funeral, Damian travels to a base for the League of Assassins, seeking his mother and grandfather for help in tracking down the person who planted the bomb and thus killed his father. Talia and Ra's turn him down and essentially tell him that he's the new Batman, and is thus their enemy. Damian spends the rest of the issue killing various Batman rogues and warring with his guilt over doing so. The issue ends with a surprise confrontation between Damian and his father, though we're not yet shown whether this is a ghost or a hallucination or something else entirely.
So what's the problem with the book? Well, for starters, there's no way that I actually believe that's Damian Wayne in the Robin suit. Calling him Damian doesn't make him Damian, and that's the biggest issue I had here.
I knew going in that this was supposed to be a lead-up to Damian becoming Batman. Therefore, I expected him to be filling the Robin suit, and to follow him through his journey to becoming Batman as the story progressed. In our very first interaction with Robin in this series, though, I altered my perceptions about what I was reading. Clearly, I thought, Damian is already Batman here, and this is him out with his new Robin. We're going to see the story as told through flashbacks, maybe, or some other storytelling device. There's no way that the quipping, flippant kid in the Robin suit is Damian.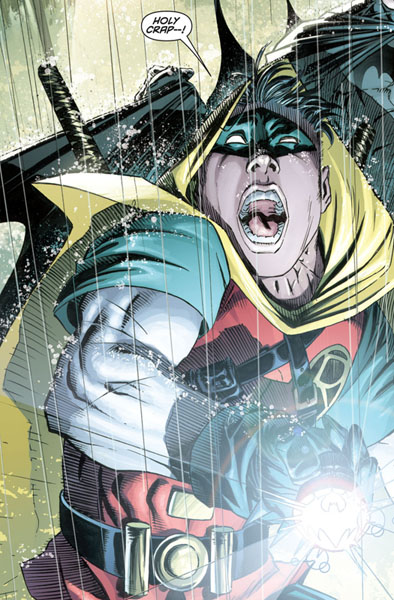 But no: we're expected to just accept that this is Damian. The Damian that I'm used to is a pretty arrogant child who was raised by the League of Assassins; he has very particular patterns of behavior and speech. He has a lot of respect for his father, even though their methods often clash. Instead of seeing that child a few years into the future, though, we're given a disrespectful Damian who openly mocks Batman's directions while in the field:

A flippant Damian who tosses off attitude when chastised: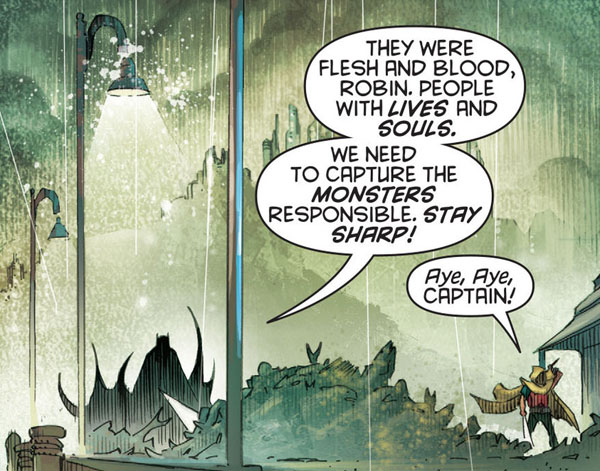 A sulky Damian who swears at his father after Bruce admonishes him for that flippancy:

It's really weird, and honestly, until Batman is killed and we find out that it was Bruce in that suit, I believed that Damian was Batman. The kid in the Robin suit seemed like a generic kid, sarcastic and quippy and a little rude. He didn't seem like Damian at all. When I realized who was who, I had to start the issue over with that in the back of my head, because it was so hard to reconcile.
As the issue progresses, Damian's characterization becomes more and more bizarre. He starts killing off random rogues, many of whom he knows have nothing to do with his father's death, even though a big part of Damian's character growth was him growing away from and ultimately rejecting his League of Assassins training. We also see him seeking forgiveness in a Catholic church, even though he's never shown any sort of religious affiliation. He sasses Alfred, which is probably the most in-character moment he has in the entire issue.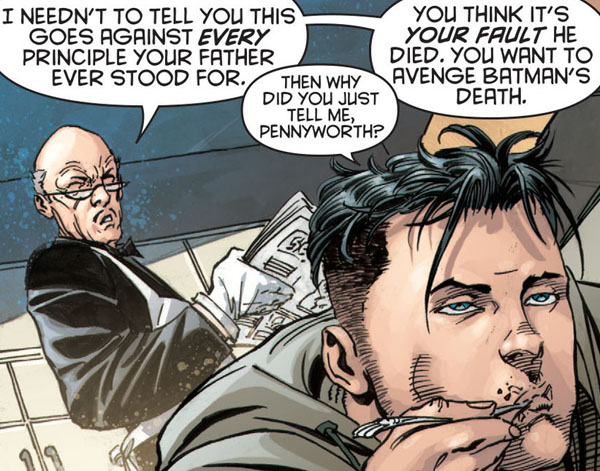 So why does all of this bother me so much?
I was cautiously excited for this book because, as I mentioned at the start, I'm a fan of Damian. I like his character; I love how he grew to love his family, and how he ultimately chose his father's ways over those of his mother and grandfather, even though the choice must have been incredibly difficult for him. I was looking forward to a book that showed me what happened in his life to turn him back onto that path, and while the book shows us that he has gone to the Dark Side, it does little in showing us the why. When we last saw him, Damian was convinced that his father was right: killing wasn't the answer. He died because he believed that, because he refused to kill the person attacking him. There's no way I buy that Bruce's death would be enough to tip Damian over the edge into "kill all the rogues" mode, and the fact that Kubert sees nothing wrong with writing Damian this way shows that his understanding of the character past his introduction is flawed at best and, at worst, nonexistent.
I wanted a book about Damian. I wanted more of the Robin that was taken away from the fans for reasons that still puzzle me (and many others). This sarcastic, violent teenager doesn't resemble the complex character that we lost in February at all, and I wish I was more surprised by this revelation. Once again, this feels more like something DC is doing because they know people will buy something with Damian's name on it than a story that's meant to hold weight within the DCU.
I mean, when my favorite page in a book that's supposedly about Damian is the one in which we see that his father has chosen to come back and haunt the crap out of him for making bad choices… well. I think that speaks for itself.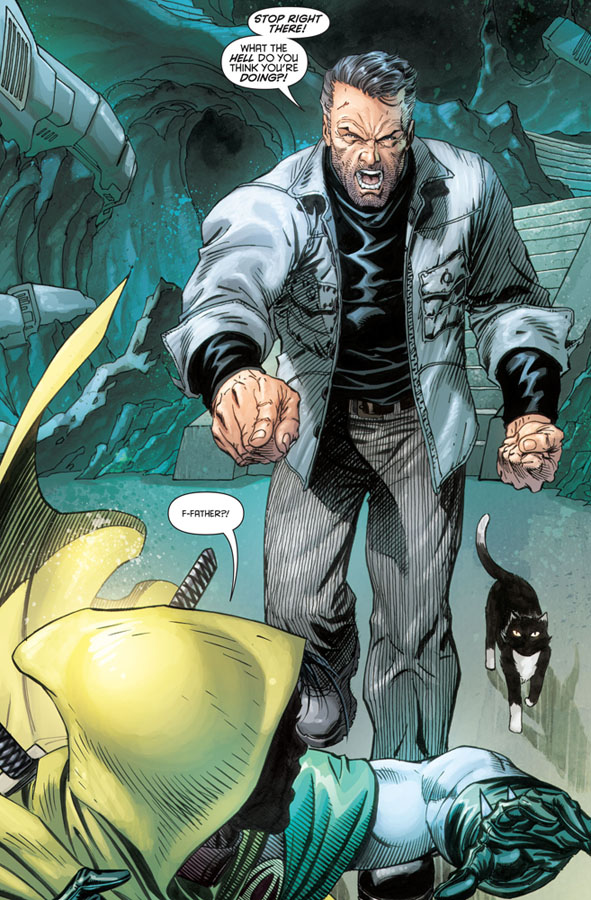 At this point, I'm not even planning to get the other three issues of this book. If this was actually Damian – if this was the character that I loved – I'd be all over it. As it stands, though, I have no interest in reading about this other kid with Damian's name. Maybe I'll pick it up when it comes out in trade; maybe I'll get the digital versions when they drop in price on comixology. Time will tell – and hopefully dropping the book will tell DC what I actually think of this weak marketing move and weaker story. (Probably not. I'm only one person, after all, but I can dream.)
Damian: Son of Batman #1. Written and penciled by Andy Kubert. Published October 2013. Buy it from comixology or find a copy at your LCS.
Comments? Questions? Leave a reply! I'll be happy to talk comics with you.